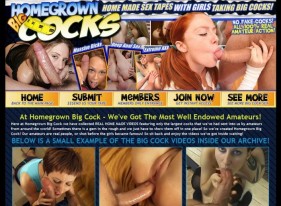 There is a perfect site for the fans of huge dicks and how they can be sucked and fucked, so feel free to check out Homegrown Big Cocks to fill your fantasies. This website has really many videos with big dicks and even some medium wieners that you could enjoy watching, proving that not only the male pornstars are the most gifted ones, but also many amateurs have above-average penises.
The Homegrown Big Cocks sites' design isn't quite impressive, as there is a lot of empty white space which seems a bit amateur and there are many broken thumbnails if you chose to filter the category and also a few links across the site that take you to broken pages. You can find many of your favorite movies on Homegrown Big Dick by using the filter and also you can find videos that other members are watching when you login, along with the latest updates and staff picks at the bottom of the page.
Even if the name of the site is HomegrownBigCock, it doesn't always have to mean amateur, as the network implies. The majority of the material on the site is made from small-time porn productions, with some user-submitted material, with big dicks and some smaller ones, but they seem to do the job just as good. Moreover, above the mostly amateur like porn videos, there are also many made-at-home ones where couples are showing their intimate hot sex action. The movies are in good quality, although there are also some videos out of date and the photo section has only vid caps.
Even if many scenes from the homepage are probably taken from the Homegrown Video network, which you can access using the same login, you can find in the "big dick" category up to 961 videos. Unfortunately, you cannot save any of the movies from the Homegrown Big Cocks site, but you can download the videos by using some Windows Media formats, and maybe sometimes different MP4 formats.
You can see the list of all the members in the site, having all an identical avatar, but that is all referring to the community section. Unfortunately, another disappointing aspect about the website is that it seems to have stopped updating. But, if you want to register at HomegrownBigCocks and watch all of their monster cock videos and even from the other websites from Homegrown, you have to pay an amount of $19,95 for 30 days, $59.97 for 90 days, $79.00 for 180 days or $119.88 for a year, therefore the price tag is reasonable and with that in mind.