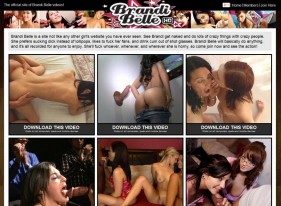 Brandi Bells' porn site is part of the bang Bros network, but does bring something new and exciting to all the porn you've experienced so far. This site is actually hers, and she personally appears in each and every video here and does all the crazy sex things she can think of and with whatever guy is available and willing to do the nasty and feature on her website. Brandi Belle is a young hot babe with no inhibitions whatsoever, and she loves to organize various kinky games that always end up in hardcore banging. She has group sex, three or foursomes, girl on girl action, cock sucking in public, holds a penis pump competition and so on.
What is great about the Brandi Belle website is that all the videos have a semi-amateur feel, providing credibility to all the sexy activity she offers. The website is easy to navigate through, presenting preview photos of the latest videos added. Promising to update every Tuesday, Brandi Belle has over 200 videos and over 100 photo galleries, which are mainly screenshot from the her hot videos. The videos are downloadable in five-minute clips, a collection of four equal parts or in full length or you can watch the MP4, Windows Media or MPEG files in streaming, using an embedded player. The photos can also be downloaded in zip files so you can further use or reuse them for other wanking sessions on your own, whenever you feel like it.
Most of Brandi Belle's porn videos are in gonzo style, and although there aren't so many posted yet, you still have what to choose from. Plus, with the membership for Brandi Belle's website, the Bang Bros network offers you appealing discounts for other porn sites.
Because Brandi is so involved in the making and maintenance of her kinky website, she also keeps a blog-like area, where she write fun details and facts about her hardcore sex experiences and personal things going on in her life. You'll also find stuff about the guys she fucked and spicy details about their sexual performances.
All the videos on Brandi Belle are sorted by the latest, the most liked and most viewed so you won't have any problems to work your way across this fun and highly enjoyable porn website. All in all, Brandi Belle offers a rather realistic note to every sex video, which proves to be a very good touch. The best part of Brandi Belle is when she takes her girlfriends to the glory hole and everyone has a not-so-innocent time there, sucking cocks hardcore style.